Fire up your next nerf birthday party with these amazing nerf party favor ideas for boys and girls. The kids will have a blast with any of these unique nerf party favors… Also, here are some of the best Nerf party gifts.
Are you getting ready for a Nerf Birthday Party and looking for some of the best party favors to send the kids home with? We have gathered up some easy, fun and cool Nerf Gun birthday party favor ideas! With just a few supplies you can have some of the coolest party favors for the children to take home. You can invite the kids with some cool Nerf party invitations.
Affiliate links are provided on this page for your convenience. Here is our disclosure policy.
---
---
---
---
---
Super cute and easy Nerf party favor idea, an orange gift bag with a printed Nerf label. Add in some Swedish Fish, M &M's, Orange Gum and Gatorade and few Nerf bullets! – more about Nerf Party Bags
---
How fun is this? A Home Depot apron equipped with a Nerf gun & safety glasses! If you want a plain apron you can use this kind! more about Nerf Gun Party Favor
---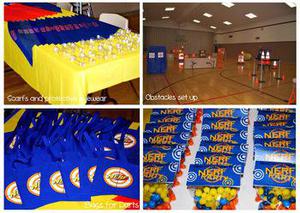 These party favors are so cool. You can DIY this favor with small blue bags and t shirt transfer paper! Then make the little candy bags with some clear bags and yellow, blue and orange candy – top with a printed tag! more about Bags and Gumballs
---
How cool would it be for the kids to leave with the very own t-shirt. All you need is a black tshirt and tshirt transfer paper! more about Nerf Wars T Shirt
---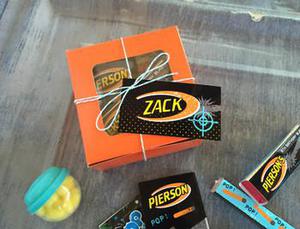 For this one all you need is an orange cupcake box and then fill it with nerf bullets, gum wrapped in a Nerf candy wrapper (optional), Pop Rocks & Smarties! more about Nerf Box of Goodies
---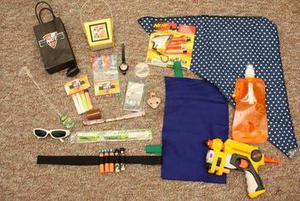 Using a gift bag fill it with a camouflage bandana, Nerf gun, Nerf darts, water pouch, dart belt and safety glasses. So simple and the kids will love it! more about Nerf Party Favor Bags
---
Bags Full of Nerf Supplies
One of my favorites is this brown bag folded and then stuffed with sunglasses, nerf bullets and a bandana. Simple, easy and fun – the kids will have a blast with this one! more about Bags Full of Nerf Supplies
---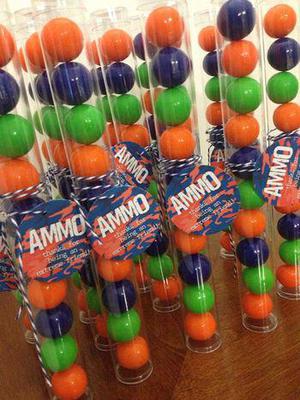 These are always a hit at the end of a part! Tubes filled with gumballs – fill with orange and blue top with a tag and you are done! more about Nerf Gumballs
---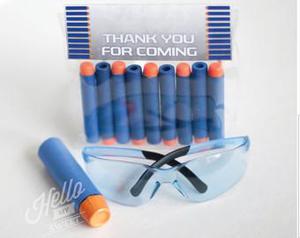 Print out a thank you tag and fill a clear bag with Nerf bullets. more about Nerf Bullet Favors
Check out some cool Nerf Party Decoration Ideas!
Our Picks of The Top Nerf Party Favors

If you are looking for the best Nerf party favor ideas here are our top picks to make sure the kids go home with a cool gift. Make Your Nerf Party Memorable With These Items Handpicked By Us:

Nerf Gun Theme Party Questions and Answers!
I am looking for Nerf party supplies do you have any ideas? You can also visit our Nerf party supplies page right here. To start you will want to make sure you have Nerf theme party supplies like: Nerf gun party plates, napkins, cups, etc. Next you will want to get some decor this can be balloons, streamers, banners and plan on using a color scheme or orange and blue or you can go with camouflage. Check out Nerf party decorations here. Another option is a Nerf gun piata. You may want a dessert table, favor table and or snack table. You can have finger foods and or appetizers. Anything to represent Nerf war party food. For sweets you can go with Nerf candy theme, cupcakes, cookies, etc. You can decorate things with Nerf stickers and you wont want to forget the invitations (find some here) and last pick a great Nerf party favor for the children to take home.
Do you have any ideas of Nerf gun war games for the kids to play at the party? We like the idea of Nerf gun war teams – for this you would start with having each child in a team color and making DIY Nerf war shirts.This is a great way to do this. Then you can setup a Nerf war playing field and the kids will have a ball battling it out on the field. Some other ideas would be capture the flag. The kids will want to defend their team flag and steal the other teams flag. The first team to capture the flag of the other team is the winner. Kids also go wild for a Nerf obstacle course – this would require a big space like a park or big backyard.
What about a Nerf birthday cake.any suggestions? Sure, you can find some video tutorials on Nerf birthday cakes. Here are a few below that you may want to check out. If these are to involved a simple cake with Nerf bullets on top would be a great option.
---
How to make a Nerf Gun Cake – Video Tutorial
---
How to make a nerf vest cake!
What are the best things to put in Nerf party favor bags? We suggest Nerf theme supplies. Ideas like: Nerf bullets, safety glasses, Nerf Elite gun and Nerf Jolt 8 pack are popular picks. How about a mini Nerf gun keychain – like this? Mini Nerf gun party favors are great to stick in a goodie bag. Nerf candy ideas are great – see some ideas here. Anything that deals with Nerf guns are great to put in favor bags.
Are Nerf gun birthday parties just for boys? Of course not! In fact there are lots of ideas for girls Nerf parties. You can find a few ideas on our Nerf decor party page. Also, you can find girls Nerf guns and we love these Nerf bullets for girls. So you can have a girls party a coed party and or a Nerf gun boys birthday party. What age should is good for a boys Nerf gun party? Its really your discretion. Sometimes its perfect for 5 and 6 year olds but again its up to the parent(s). It can also be a great theme for 9 year old boy birthday party. Its always good to check around with other parents and see what the feel about it.
If you have any questions about a Nerf theme party like: party decor, invitations, Nerf gun gifts, plates, napkins, banners or anything related to Nerf leave us a comment and we will do our best to get back to you and post your question with an answer.
We hope you found some cool party favor ideas for your Nerf birthday party! Which one was your favorite? We hope you have a great day and your Nerf party is a success! Don't forget the Extra Nerf Bullets so you don't run out 🙂
---