Spa Party Favor Ideas
Find the best spa party favor ideas for kids - you will love all the cute things you will find in this top spa party favor list. If you are looking for some great spa party favor ideas for your party then look no further.
Whether you are looking for cool spa gifts or simple diy gifts or goodie bags, you will love these ideas!
Affiliate links are provided on this page for your convenience. Here's our disclosure policy.
---
---
---
---
---
---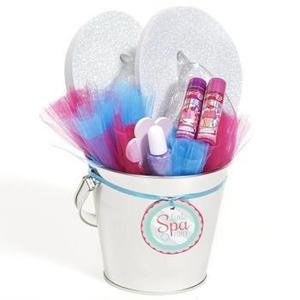 Fill a bucket with nail file, nail polish, lip balm, loofah & stickers! more about Spa Party Favor Bucket
---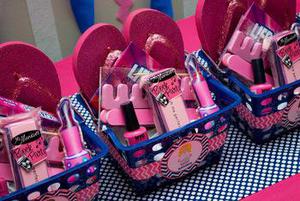 Use a caddy and fill with flip flops, manicure set, pedicure set, nail polish, and candy. more about Spa Party Caddy
---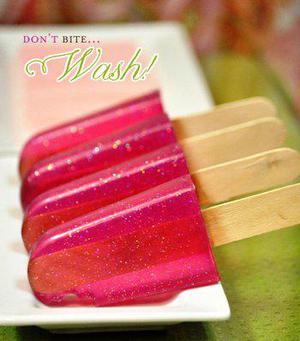 Make these cute popscile soaps. All you need is a popscile mold and melt and pour soap along with some popscile sticks. more about Popscile Soap
---
These goody bags, were shower caddies with the velcro wraps, turbie twists for their hair, lip gloss & brush. more about Spa Baskets
---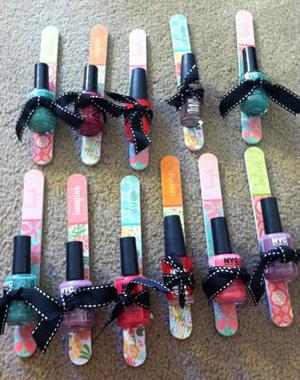 So simple and cute - a nail file with a bottle of nail polish tied with a cute ribbon. more about Nail Party Favor Idea
---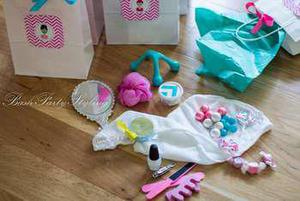 Use a white gift bag add a cute sticker to the front and fill with manicure & pedicure set, towel, gumballs & candy lip balm. more about Spa Goodie Bag
---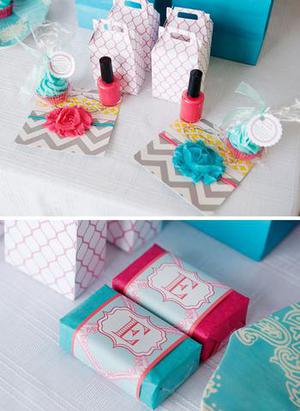 In a mini gift box put a bottle of nail polish with a nail file then find some cute soap and there you have a fun and easy party favor idea for your spa party! more about Spa Party Favor Idea
---
Simple bottle of nail polish with cute tag. more about Nail Polish
---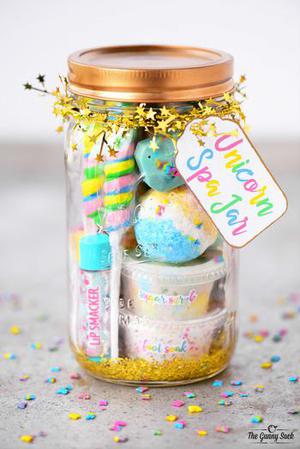 So much fun - a unicorn spa jar! You will need a mason jar, twist lollipops, glitter snap clips, Rainbow Ice Gourmet Gum, Lip Gloss, Bath Bombs & unicorn soap more about Unicorn Spa Jar
Make Your Spa Party Extra Special With These Items Handpicked By Us For YOU!
Spa Party Favors - Tote Bags, Lipstick tube shaped Ink Pens, Toe Separators, Emery Boards
Metallic Pink Foil Fringe Curtains
Little Spa Salon Makeover Party Favor Boxes
Spa Salon Makeover Party - Balloon Bouquet
We hope you found the perfect favor idea for your spa party! Which one was your favorite! Spa party favors are fun to put together and the kids will love to take home beauty and spa products. If you need more ideas head over to Pinterest. We hope your spa party is a success and all the kids have a great time.
---
DIY Spa Gifts in a Jar! Spa Party Favor Idea - Video Tutorial
Learn how to make DIY mason jar spa party favors. Fill a mason jar with all the fun spa essentials and let each child take one home. You could even have them fill the jars themselves. You could set you bins or stations with each of the spa items and then have them fill them up.
Spa Party Questions and Answers!
Do bath bombs make a good spa party favor? Yes, kids love bath bombs! You can find bath bombs with toy surprises inside, rings and more. The other cool bath bombs are ones with essential oils - they smell amazing. Kids love to watch the bath bombs fizz up.
Can I make my own DIY bath bombs or should I buy them? Bath bombs are so easy to - I have made them many of times! You can find video tutorials Youtube - here is one you can follow that is really simple - it's pretty creative and unique too!
---
DIY Bath Bombs - Makes Great Party Favors - Video Tutorial
Kids would go crazy for these bath bombs that look like animal cookies and also milk and cookies! While these are not edible but the children will love how real the look!
What is the best spa party favor? Really anything that is spa related makes a great party favor. Soaps, nail polish, bath bombs, nail files, manicure sets, lip balms, baskets with spa goodies all make great gifts for the guests to take home.
If you have any questions related to a spa party - invitations, decorations, party food, anything - leave us a comment. Let us know where you are celebrating your spa party - are you having a home spa party or are you going to the salon to celebrate? Let us know your favorite party favor idea. Have a relaxing day!
---
---
Related Topics