The best Sensory Jars ideas! Find the best kids activities and craft ideas! Great Sensory Jars ideas that kids will love to create. Easy and fun things that children of any age will love. Best Sensory Jars ideas that will keep the kids busy and entertained for hours.
Learn how to make sensory jars that children will love. Great ideas from DIY to glitter to ocean theme and more. Shake the jars and watch the kids light up! Great for babies, toddlers, preschool, classrooms and more. Call them what you want Glitter Jars, Relaxation Jars, Calm Down Glitter Jar, Calming Glitter Jars, Calming Glitter Bottle, Mind Jar kids will love any of these jar ideas. They are great for boys and girls. Perfect for motor skills, learning and just a plain simple fun activity. Great ideas that parents can be assured will provide hours of fun for the kids. Take a look at some of the coolest Sensory Jars ideas. Get the best kids crafts, activities and DIY sensory jar projects now!
Affiliate links are provided on this page for your convenience. Here is our disclosure policy.
---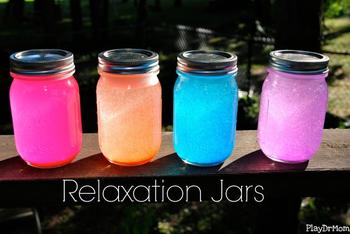 Super easy DIY relaxation jar idea. Made with mason jar – glitter glue and warm water. more about DIY Sensory Jars
---
Try your hand at this corn syrup sensory jar – add some water and heart confetti – easy – fun – creative and unique. Watch the kids eyes light up they see this sensory jar. more about Sensory Jar For Toddlers
---
Recycle a peanut butter jar to make this DIY glitter sensory jar. Made with glitter glue and you can cut out your favorite fairy garden or whatever theme you would like to glue on the front of the jar. more about Diy Glitter Sensory Jar
---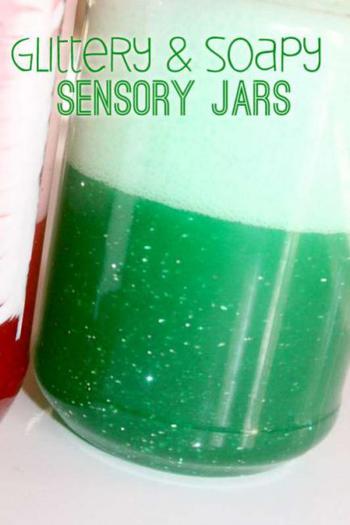 Recycle a peanut butter jar add some water and food coloring and few drops of clear dish soap. Shake it and watch this cool jar make tons of bubbles. more about Shake It Up Sensory Jar
---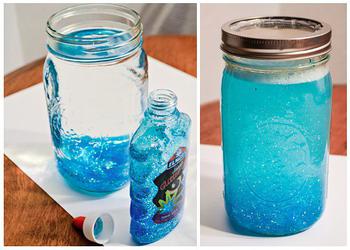 Fill a mason jar with glitter glue and water – great fun for boys and for girls. You can also turn this into a fun ocean sensory jar by adding toy fish and sharks. more about Mason Jar Sensory Play
---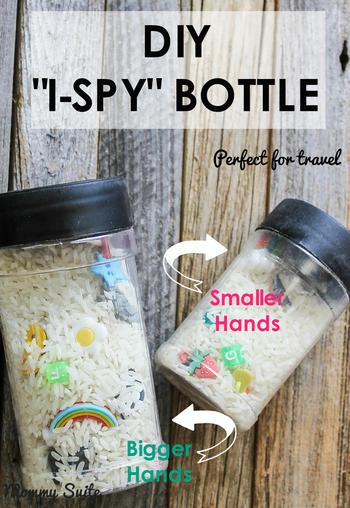 Upcycle spice jars or these kind work good too!! to make these I Spy sensory bottles. Make with: rice – charms – buttons – small toys or beads. more about I Spy Sensory Jar
---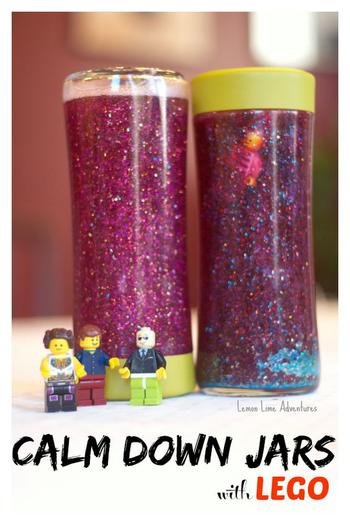 These fun calm down bottles are made with an Argo Tea Jar – glitter glue – food coloring – warm water and Lego Minifigures. more about Calm Down Jar
---
DIY Calming Glitter Jars & Glitter Slime Video Tutorial
---
We hope that you found some awesome sensory jars ideas. All these ideas are sure to be a hit with the kids and the whole family. Sensory Jars are a great DIY activity to keep kids busy and entertained for hours. For more DIY crafts, activities and DIY projects for children you can also check out Pinterest. Enjoy these amazing ideas and if you have any craft projects or DIY activities that your kids love then leave them in the comments! Enjoy!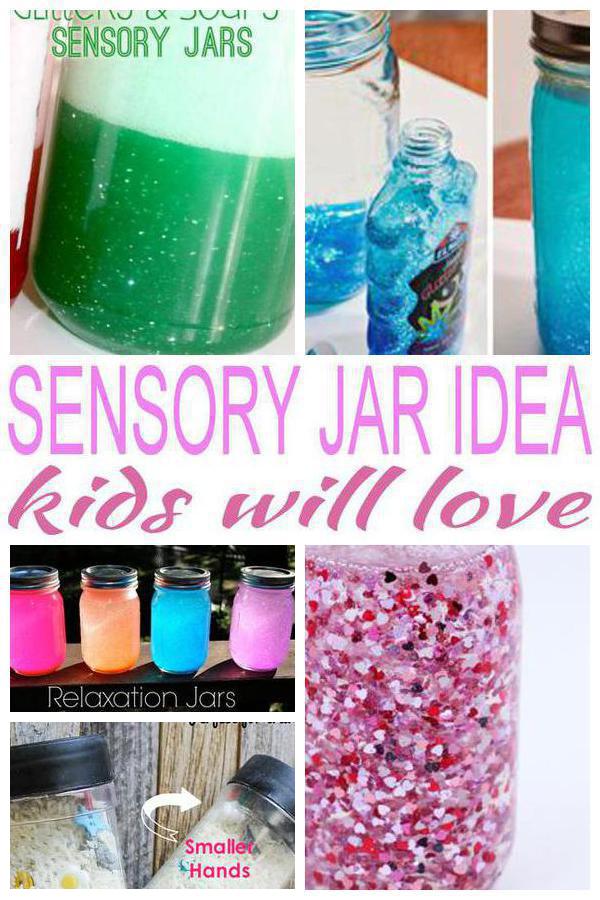 ---